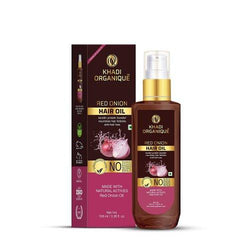 Red Onion, Curry Leaf & Alkanet Root are traditionally known ingredients used to encourage hair growth. Onion is a natural source of quercetin, a powerful anti-oxidant that protects the health of our hair, and is also rich in sulphur, known as the beauty mineral, with antiseptic, fungicidal and antibacterial properties that are important for encouraging healthy hair growth and stimulating blood flow.
BEST LUXURY HAIR CARE WITHOUT SACRIFICING YOUR HEALTH: Contains NO Sulfates, Parabens, Sodium Chloride, Gluten.
Researchers have found that shampoos containing sulfates and other harmful ingredients can cause itchy scalp, serious skin irritation and disease, hair loss and damage, and the ability to create nitrate compounds which have been linked to cancer and cell damage. Khadi Global contains NONE of these harsh chemicals.
SUITABLE FOR ALL HAIR TYPES AND SAFE FOR COLOR TREATED HAIR. STRENGTHENS HAIR : It helps to give strong, lustrous hair and keep it healthy.
It aids in moisturizing the scalp and helps nourish the roots.
MAKES HAIR SOFT : Gentle surfactants cleanse hair & scalp without stripping. Keratin prevents damage & dryness, leaving hair soft & smooth.