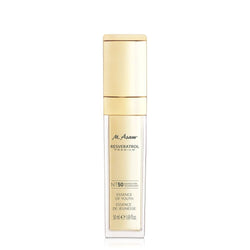 Resveratrol Premium Essence Of Youth Serum - 50Ml
Premium anti-aging skin care with resveratrol from grape vines Resveratrol is based on the breakthrough beauty benefits of resveratrol. These premium skin care products contain concentrated resveratrol to support a younger and more radiant looking complexion. Resveratrol is a powerful, natural antioxidant gained from grape vines and is known for its "power of youth". The rich formulations are suitable for all skin types and contain a fresh lime fragrance.
Features:
Helps improve the appearance of skin firmness, with an overall improvement in the look of the skin's complexion.
Helps skin look brighter, moisturized and supple, for younger-looking skin.
Helps reduce the appearance of fine lines and wrinkles for visibly smoother-looking skin.
M. Asam has worldwide exclusivity on the NT 50 Technology combined with Resveratrol. The NT50 technology is an encapsulated Resveratrol combined with a peptide that has time release properties and helps deliver luxurious ingredients to the skin.
This state-of-the-art serum contains the latest technology in skincare.
Shake well before use.
Apply this face serum in the morning and evening onto your cleansed face and gently massage in.
Made in Germany