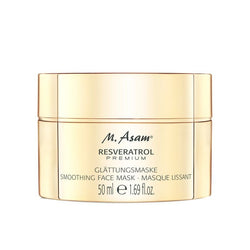 Resveratrol Smoothing Face Mask
This Resveratrol Premium Skin Smoothing Mask from M. Asam helps to fight against the visible signs of premature skin ageing, leaving your complexion feeling smooth and soft. Featuring concentrated resveratrol, grape seed oil and vitamin E, this rich mask makes a luxurious treat for any skincare fan.

Provides protection against moisture loss, and gives your skin a velvety soft and smooth feeling.

Moisturizes, regenerates, and gives a radiant complexion.

Helps fight natural aggressors that can lead to premature skin aging.

Activates the youthfulness enzymes of the skin.
Apply the mask to your face as needed. Leave on for 15 minutes and then remove with a damp cotton pad.
Use only as directed. Avoid contact with eyes.