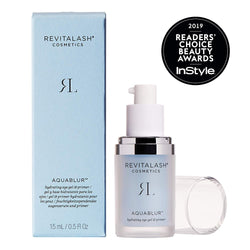 Hydrating Eye Gel & Primer
A simple, gentle and  effective  hydrating  eye  gel  that  can  be  used  with  or  without  makeup  to  moisturize,  protect  and  smooth  the  eye  area  for  a  radiant  and  youthful  appearance.  An oil-free  and  antioxidant  rich  formula. 
WHAT IT DOES:
Dual-purpose lightweight eye gel moisturizes the  delicate  eye  area  while  smoothing  skin,  blurring  imperfections  and  creating  the  perfect  foundation  for  under  eye  makeup  application.  Contains highly effective  ingredients  that  replenish  moisture  levels  in  the  skin,  protect against  environmental  aggressors,  and  prime  with  a  soft,  satin  finish. 
WHAT ELSE YOU NEED TO KNOW:
Vegan Friendly
Oil Free
Cruelty Free
Does not contain Oil, Parabens, Phthalates, Fragrance, Gluten
Step 1:
Dispense up to half a pump of AQUABLUR™ Hydrating Eye Gel and Primer onto fingertip.

Step 2:

Morning and night, gently smooth along the orbital bone including the undereye contour. Follow with makeup application