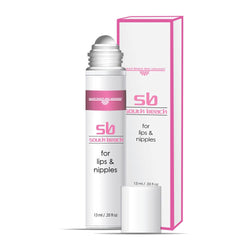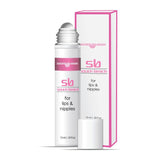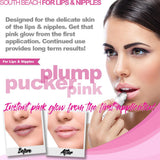 Designed for the delicate skin of the lips & nipples. A pink glow from the first application. Dermatologist tested.

 If you suffer from embarrassing dark or discolored lips or nipples, you are not alone. South Beach Skin Solutions™ for Lips & Nipples is the ultimate product for safely and effectively reducing the appearance of dark discolorations of these sensitive areas.
Unlike cheap drug store skin lighteners or bogus imitators, our specially-formulated product is very gentle and does not contain any potentially harmful or irritating chemicals such as Kojic Acid, Hydroquinone or Mercury. Who would put that on a sensitive area! Packaged in a convenient mini roller ball for easy application.
Our unique formula gives an instant "pink glow" with each application to brighten your lips and nipples.
Features:
Geranium oil to help with clearing oily and sluggish skin and healing.
Apple fruit extract for soothing properties.
Green tea extract to protect the skin from free radicals and promote elasticity.
Cowslip to even out complexion, sooth and moisturize.
Lady's Mantle extract tightens while reducing irritation.
Mallow extract to sooth and soften the skin.
Vitamin C to exfoliate and protect, while restricting melanin production.
Rosemary extract to improve circulation and anti-ageging properties.
Speedwell extract to brighten and help even skin tones.
Licorice Extract to inhibit melanin and scavenge free radicals.
Bearberry Extract to inhibit melanin formation and brighten skin.
Convenient mini roller ball applicator.
External use only. Not intended for use by pregnant or breast feeding women.
How to use:
Our skin brightening SB FOR LIPS & NIPPLES is designed for use in these delicate areas in a convenient mini roll-on. Get that luscious Pink Glow from the first application. For best results, use 2-3 times a day. Apply directly to the desired area. You should experience an immediate slight plumping and pink brightening effect. This is normal. Add more as needed and continue use until the desired result is achieved. Allow to dry completely before using any other products. Individual results may vary depending on the cause and severity of the discoloration. Avoid exposure to sun. External use only. Can be used in conjuction with your normal lipstick or other products. Consistent use is the key to quickest results.
External use only. Not intended for use by pregnant or breast feeding women