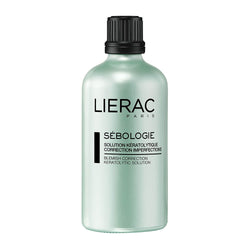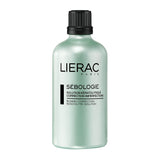 Sebologie Solution Keratolytique Correction 100Ml
TARGETS: SHINY SKIN – DILATED PORES – SPOTS AND RESIDUAL MARKS
THE PREPARING TREATMENT THAT TARGETS 3 TYPES OF IMPERFECTIONS:
Inspired by the deep-cleansing resurfacing aesthetic procedure*, this solution with peeling action provides a specific response to fight imperfections at every stage in their development. Zinc gluconate, with sebum-regulating and astringent properties, acts on shiny skin and dilated pores. Salicylic acid, with keratolytic action, acts on spots and residual marks. Glycolic and lactic acids provide purifying and deep-cleansing properties. Immediately, skin is mattified.
After 28 days, skin is purified, with no drying effect, spots are corrected and pores unclogged.
The active texture of this fresh and astringent lotion provides an instant purifying effect.
The fresh and musky fragrance, with notes of grapefruit, cedar and musk, gives an instant feeling of well-being and purity.
Apply at night onto the face, using a cotton pad. Use alone or before your LIERAC skincare cream. Avoid contact with the eyes. A slight tingling or itching may be felt on application. Apply less frequently if necessary.
Aqua (Eau Water), Alcohol, Lactic Acid, Propanediol, Sodium Citrate, Glycolic Acid, Zinc Gluconate, Glycerin, Peg-40 Hydrogenated Castor Oil, Salicylic Acid, Parfum (Fragrance).