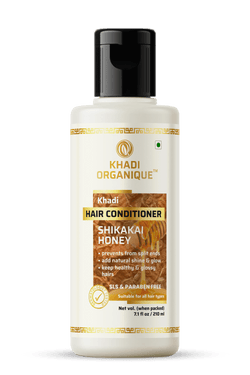 Shikakai & Honey Hair Conditioner
Soothes the scalp, Promotes strength and Rejuvenate your hair. Repairs and Rebuilds the Hair. Your hair also needs your love and pampering, so that you can style them the way you want. Nuture them with pure honey, Shikakai and other wonders from nature that revitalize and rejuvenate your hair.
A rich source of nutrients, the fabulous combination of herbs and essential oils from khadi organique repairs and rebuilds the hair follicles and soothes the scalp.
Delivering optimal balance, the multi functional product promotes strength, softness and manageability. The soft subtle aroma keeps you refreshed and energetic all day long. Enjoy lovely tresses that match your flair. Filled with the goodness of natural herbs