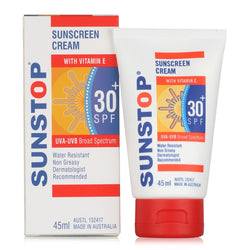 Sunstop Spf 30+ Sunscreen Cream
Sunstop SPF 30+ sunscreen cream is a moisturizing photo protector. It protects delicate and fair skin against the damaging effects of UVB and UVA radiation, visible light and infrared radiation.
Benefits:
Revitalises the appearance of sun-exposed Skin

Prevents skin whitening and any chalky look.

Prevents Premature Ageing, Wrinkling and Skin Cancer due to overexposure to the sun.

Non-greasy.

Water & sweat resistant.
Apply a sufficient amount over face, ears, neck, arms, legs and any other part of the body exposed to sun light.

Apply ever four hours or after excessive perspiration or towel drying.