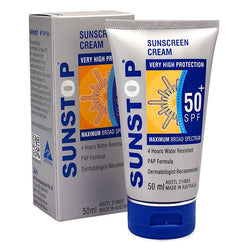 Sunstop Spf 50+ Sunscreen Cream
It is an ideal sunscreen cream to protect delicate and fair skin against the damaging effects of the sun. It contains several filters to absorb, reflect and diffuse all radiation to prevent it from penetrating into the skin and fight free radical formation which will cause cellular damage.
Benefits:
Waterproof & sweat proof 

Calms soothes and prevents dryness.

Provides epidermal and dermal photo-protection.

Reduces the chances of skin cancer due to overexposure to the sun
Apply a sufficient amount to the face, ears, neck, arms, legs and any other part of the body exposed to sunlight.