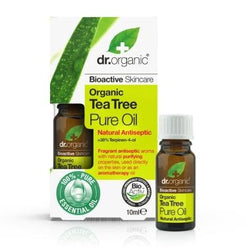 Dr Organic Tea Tree Pure Oil will leave your skin feeling clean and fresh. A natural antiseptic, it can be used directly on your skin or alternatively as an aromatherapy oil.
A 100% pure essential oil that is a fragrant antiseptic with natural purifying properties. Can be used for insect bites and blemishes
.
For general and antiseptic use, apply one or two drops of oil into cotton wool, apply to the skin. As an aromatherapy oil add 5-6 drops to a bath or vaporiser, alternatively dilute in 10-15ml of carrier oil.
Melaleuca alternifolia (Tea tree) leaf oil, Limonene.