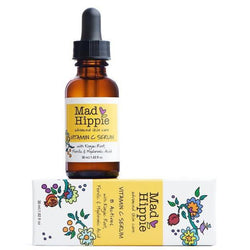 Tighten, brighten & smooth your skin! Mad Hippie's award-winning Vitamin C Serum is a harmonious blend of antioxidants that brightens, tightens & smooths the skin. 8 Actives with Konjac Root, Ferulic & Hyaluronic Acid. Konjac Root is an exotic Asian flower that softens & smooths the skin and is rich in vitamins & nutrients. Ferulic Acid is found in the cell walls of plants and has a compounding antioxidant effect when combined with vitamin C & E.
"The brand's Vitamin C Serum is a miracle worker" ¿ Allure

"What we in the industry call ~*MAGIC*~" - Marie Claire

"Best anti-aging products dermatologists swear by"- Women's Health
Rub in well, making sure products fully penetrate the skin.
Vitamin C (Sodium Ascorbyl Phosphate): One of the most vital ingredients in any effective skin care regimen, Vitamin C is a powerful antioxidant and can help reduce the appearance of wrinkles & discoloration. Sodium Ascorbyl Phosphate, a more stable form of Vitamin C than the commonly used L-Ascorbic Acid found in most skin care products, provides the same benefits, without the risk of oxidation and irritation that is often associated with L-Ascorbic Acid.
Vitamin E: Protective antioxidant that has been shown to reduce the appearance of wrinkles & discoloration.
Ferulic Acid: A natural antioxidant found in the cell walls of plants. When combined with vitamins C & E, Ferulic Acid has been shown in studies to have a compounding antioxidant effect.
Hyaluronic Acid: A naturally occurring substance in the body, hyaluronic acid begins to deplete as we age. Applied topically it can help increase the plumped up look of the skin.
Konjac Root Powder: Exotic flower from Asia, helps to soften & smooth the skin while forming a thin protective barrier. Rich in nutrients such as copper, zinc, phosphorus, fatty acids, protein, carbohydrates, lipids, potassium, magnesium, iron, niacin, folic acid & vitamins A, E, C, D & B!
Grapefruit: Rich in antioxidants & citric acid, grapefruit acts as a natural exfoliant.
Chamomile Extract: Provides a thin protective shield, while naturally soothing and calming the skin.
Clary Sage: Helps eliminate overly-dry or overly-oily skin. Acts as natural toner & astringent.