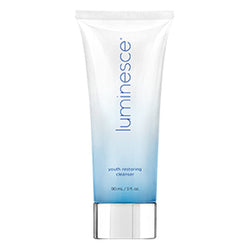 Begin your beauty routine by washing away the stress of daily life. This special blend of alpha and beta hydroxy acids exfoliates and sweeps away skin-cell buildup so your skin is fresh and ready to absorb the maximum benefits of the LUMINESCE™ skincare line.


BENEFITS
Cleanse skin gently to remove debris and impurities.
Exfoliate to reveal younger and smoother-looking skin.
Prepare skin to increase the effectiveness of your Luminesce beauty regimen.
USAGE
Apply a small amount of cleanser to your fingertips or facial brush. Massage evenly in an upward circular motion for 30 seconds into your face and neck. Rinse and pat dry.
For best results, use daily and follow with luminesce cellular rejuvenation serum.